Cat Christmas - C.C. Designs October 2022 NEW RELEASE Social Media Hop
Hey all!
Welcome to the C.C Designs September Release Social Media Hop! Hop along for your chance to WIN 1 of 2 $15 G.C to the store! C.C. Designs will pull one from Instagram and one from the blog comments. C.C Designs is celebrating the arrival of 4
NEW Stamp sets
in the C.C Designs Store.
The Design Team has been giving you previews all week and now we are sharing our BEST inspirations for Release Day to encourage you to shop 'til you drop. You should have come from the Kerri Boucher's Blog and now you get to see what I have created for you. Today I am showcasing SUPER CUTE Cat Christmas Clear Stamp Set.
I only used 3 of the little cats but there are so many different ones that it gives you TONS of options for Christmas cards.
I had loads of fun coloring these little cats, but kept them kind of basic so that they would show up nicely. With the photo editing you can't really tell but I did put a little shadow on the cats to make them look white with some W2.
I also kept the ornaments on the wreath basic as well since they were so small but I still had to have a little fun with them and make sure they were all kinds of fun colors. I also put some dots in the wreath to simulate the look of leaves or foliage in the wreath instead of leaving it plain.
The last thing I put on the card was the glittery bow. You can't tell to much from the photo but the red ribbon shimmers with gold color.

COPIC COLORS:
Cats: Y21, W2
Red: R05. 17, 29, 59
Green YG23, 25, G24, 28
Yellow: Y13
Gold: Y28, 26
Cookies: E21, 23
Sled: E31, 33, 35

Here is the full HOP line up:
To enter:
1. Subscribe to the Design Team Blogs, Instagram, & YouTube Channels
2. Leave a Comment
3. Tag your friends for bonus entries
Entries will be accepted until Wednesday October 12th, Winners will be announced on the C.C Designs Blog and FB Page on Friday October 14th.

Did you hear?? I am hosting a crafting retreat! Come join me! It's virtual now too!

MY SUPPLY LIST: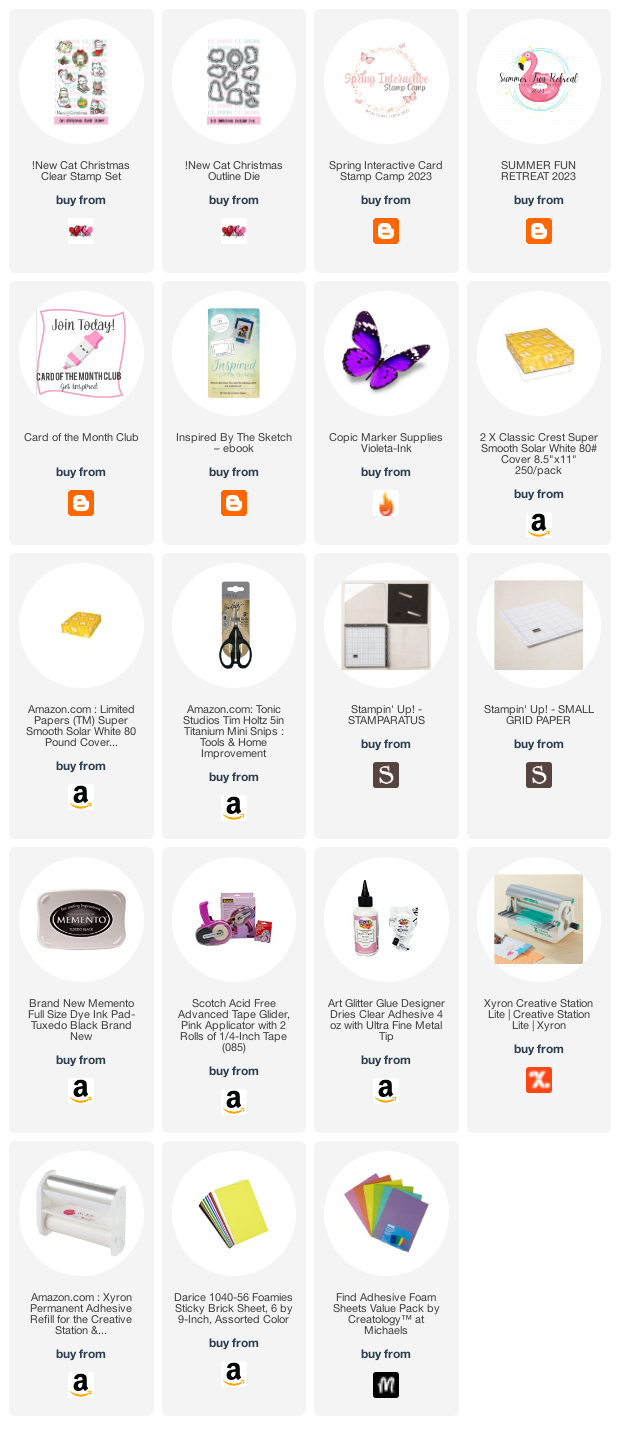 I hope you enjoyed my post today. Be sure to head over to the CC Designs blog to see even more inspiration. You can also find CC Designs on Facebook and Instagram.

Until next time friends!!!




Don't forget to sign up to follow my blog so you don't miss a post. You might also want to follow me on Instagram, YouTube, Pinterest, and if you want to connect with me, even more, come see my facebook page!