Poodles Of Love ~ La-La Land Crafts New Release
[vc_row][vc_column][vc_column_text]
Hey all! Happy Monday!! I have a really cute love you card I made using La-La Land Crafts new release Poodles Of Love. Yes, I know Valentine's day has passed. However, I teach my kids that you should tell and
show someone that you love them every day, not just one day a year. Plus, who can resist these cute little Poodles of Love pups? I can't.
I just love their curly hair they are so cute... I was going for a red white and blue theme for some unknown reason... just thought it looked good I suppose. But I made the boy's hair dark blue and the girl a bit of a lighter blue.
I went over the swirls a bit with a white gel pen when I was finished I think I liked it better. As you can see I used the boy to hide some of the mistakes that I made with the Rose Bouquet Die, some of the pieces fell out while I was coloring it.
The Love You More Die I actually cut the more off. I wanted the Love You to show without the More. Plus, the more was just taking up to much room and covering too much of my card.
Copic markers I used are:
Boy Poodle: C1, T0, B32, 34, 37
Boy Poodle Scarf: R24, 27, 29
Girl Poodle: C1, T0, B000, 01, 02, 04
Girl Poodle Bow: R24, 27, 29
Rose Bouquet Dies: R24, 27, 29, YG23
Here are the supplies I used for the card: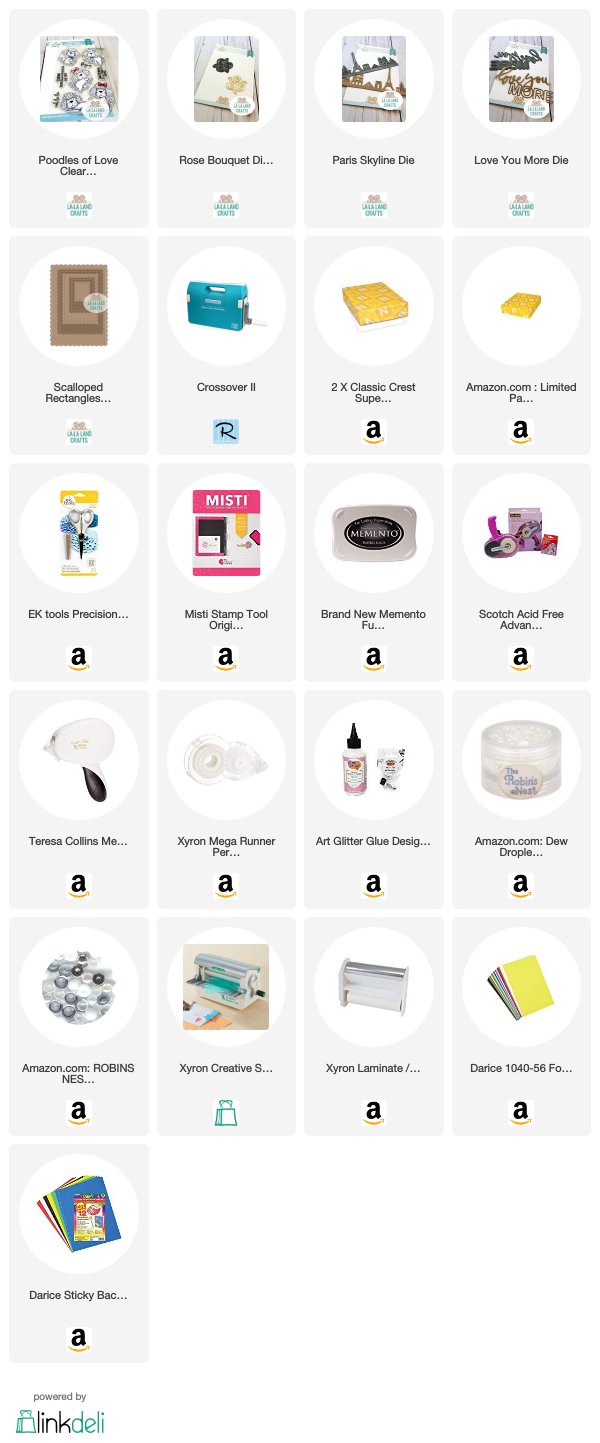 I hope you enjoyed my post today. Don't forget to go and see the rest of the team's creations over at the 
LaLa Land Crafts Blog
. Don't forget you can also find great inspiration over at the 
LaLa Land Crafts Facebook Group
 and on 
Instagram
as well.
Until next time friends!!!
Don't forget to follow me on 
Instagram
,
YouTube
,
Pinterest
, and if you want to connect with me, even more, come see 
my facebook page
!
[/vc_column_text][/vc_column][/vc_row]