Enjoy The Summer - Party Time Challenge #484 with The Paper Shelter

Hey all! Happy Wednesday! I had a great time the new challenge over at The Paper Shelter blog. The theme for challenge #484 is PARTY TIME! The challenge is supposed to be a project with anything that is celebration or birthday. I felt with it being the end of summer and loving barques (more like missing them these last couple years) that it would be great to have an end of summer celebration. Enjoy The Summer was the perfect stamp for me to use!

I really love this little gnome! He makes me think of an old ZZ Top or a few of the men in my life haha! When I first saw this stamp I didn't even realize that the one basket behind him full of bottles was a walnut!

I had at first colored the butterfly in pinks and greens but it didn't go very well with the over all project. Meadow told me I should color it like a monarch butterfly, so there you go!
I also popped him and the butterfly up off the cloud background.
The last thing I did was added Enjoy The Summer printed out on Vellum cardstock to the top of the card under the cute Stitched Sun. I thought it really fitting sentiment even if it was the name of the stamp... kinda worked out haha!

The Copic markers I used are:
Skin: E00, 04, 11, 21
Hair: C7, 6, 5, 4, 3
Glasses: C8, 7, 6
Red Shorts and Hat: R59, 46, 29, 17, 05
Yellow Shirt and Basket Liner: Y11, 15, 02
Walnut basket: E37, 35, 33, 31
Bottles: N1, 2, B00, 000, E33, 31
Picnic Basket: E41, 42, 43
Bread: E33, 31
Grass: YG21, 23, 25, G24, 28, 99
Shoes: E33, 35, 37, 42, 43, Y28
Butterfly: C7, 6, 5, 4, 3, Y38, 17, 15

Here are the supplies I used for the card: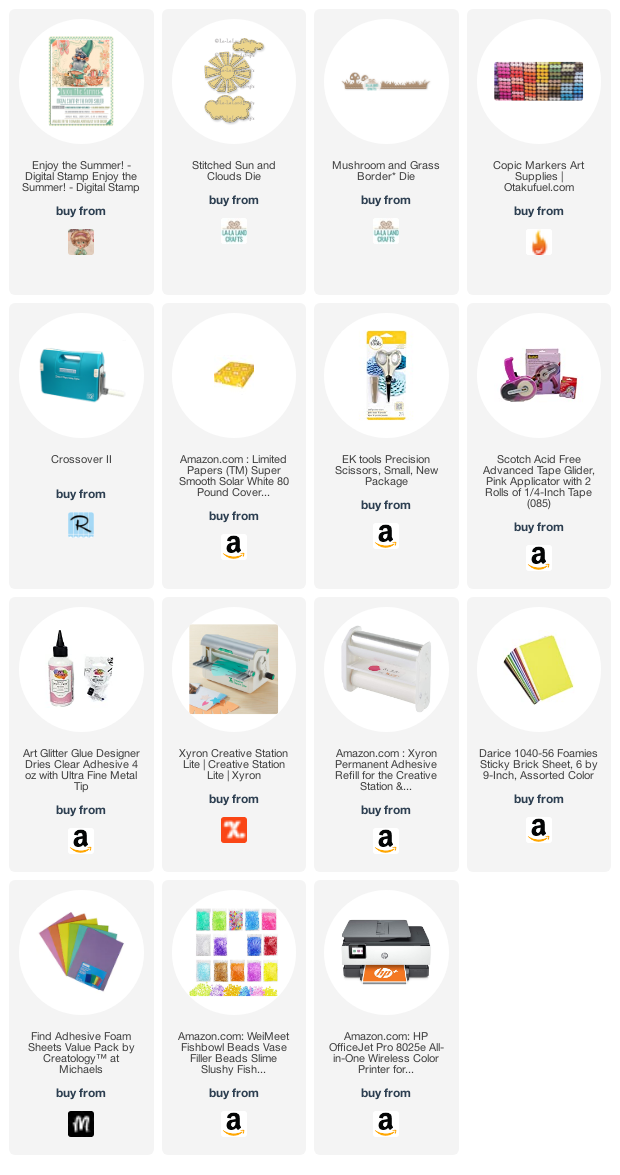 I hope you enjoyed my post today. There are a lot of lovely cards over on the
challenge blog
you really should go and look. Find The Paper Shelter on Instagram here: @thepapershelter. There is also a group on Facebook called
Friends Who Like The Paper Shelter
that you can share them with as well.
Until next time friends!!!

Don't forget to sign up to follow my blog so you don't miss a post. You might also want to follow me on Instagram, YouTube, Pinterest, and if you want to connect with me, even more, come see my facebook page!