Happy Times Challenge #423 ~ The Paper Shelter
Hey All! Today I am playing with Happy Times from The Paper Shelter. The Paper Shelter challenge for this week is Birthday. Since I have been sick and getting caught up on my posts, this was perfect timing! I had actually made this card for my dentist.. yes another card for our dentist. His birthday is just before my son Stephen's birthday.
He is a child of the '70s, as am I, so I knew this would be a perfect image to use. The Happy Times Mega Pack comes with 2 other images as well that are a lot of fun.
I also added the stitched chevron die to add some texture and fun. I also added a bit of twine to add a bit of depth and separation.
The last thing I added was the sentiment. I cut that out using a long flag die.
The Copic markers I used are:
Skin: E000, 00, 04, 11, 21, R30
Hair: E41, 42, 43, 44, 47
Jeans: B91, 93, 95, 97, 99, W3
Shirt: B12, 14, 16, 18
Shoes: R27, 24, C0, 1
Rocks: T3, 5, 6
Hammock: E81, 84, 87
Newspaper: E41, 42
Grass: YG23, 25, 93, 99, G24, 99
Trees: E31, 34, 33, 35, 37
Sky: B0000, 000, 00, 01
Here is the video I made of me coloring the image with Copic markers and putting the card together. I hope you enjoy the video:
Here are the supplies that I used so you can have easy access to them: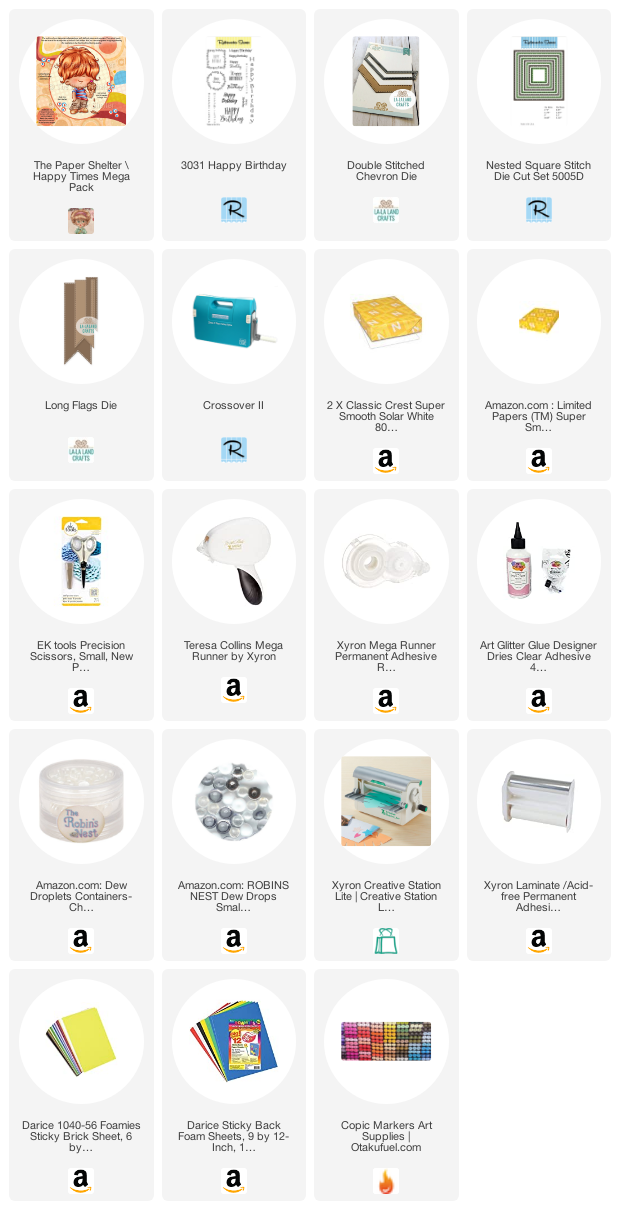 I hope you enjoyed my post today. There are a lot of lovely cards over on the
challenge blog
you really should go and look. Find The Paper Shelter on Instagram here: @thepapershelter. There is also a group on Facebook called
Friends Who Like The Paper Shelter
that you can share them with as well.
Until next time friends!!!

Don't forget to sign up to follow my blog so you don't miss a post. You might also want to follow me on
Instagram
,
YouTube
,
Pinterest
, and if you want to connect with me, even more, come see
my facebook page
!