A Pocket Full ~ La-La Land Crafts New Release
[vc_row][vc_column][vc_column_text]
Hey all! Happy Monday!! I have for you today two of the cutest new La-La Land Crafts releases! I love them both and am completely obsessed with them. The first one is A Pocket Full Clear Stamp, there are so many things you can do with this. There is a
die to match which gives you endless possibilities! I also love the new Your Kindness Background Stamp Set that gives the pockets that amazing texture!
A Pocket Full also comes with a lot of words and sentiments. I wanted to use these words because I wanted it to look as if pockets were filled with Joy, Dreams, and Sunshine, each of the little duck's names.
These adorable little ducks are from the new release You Lucky Duck Clear Stamp Set. I am completely obsessed with them! They are just too stinkin' cute! Plus they are easy to color! I have a video of my coloring them down below for you.
I also colored the little ducks with each their own color of flower to represent their names.
I added some crochet ribbon on the card. But I thought the card wouldn't be complete without using some of the new release Spring Has Sprung Designer 6x6 Paper Pack.
The Copic markers I used on this card are:
Ducks:
Feathers: E40, 41, 42, 43, 44
Bills: YR23, 24, 27, Y35
Flowers: Y0000, 000, 02, RV000, 00, 02, B000, 01, 02, YG21, 23, 25
Pockets: Distress Oxide Ink Faded Jeans
Here are the supplies I used for the card: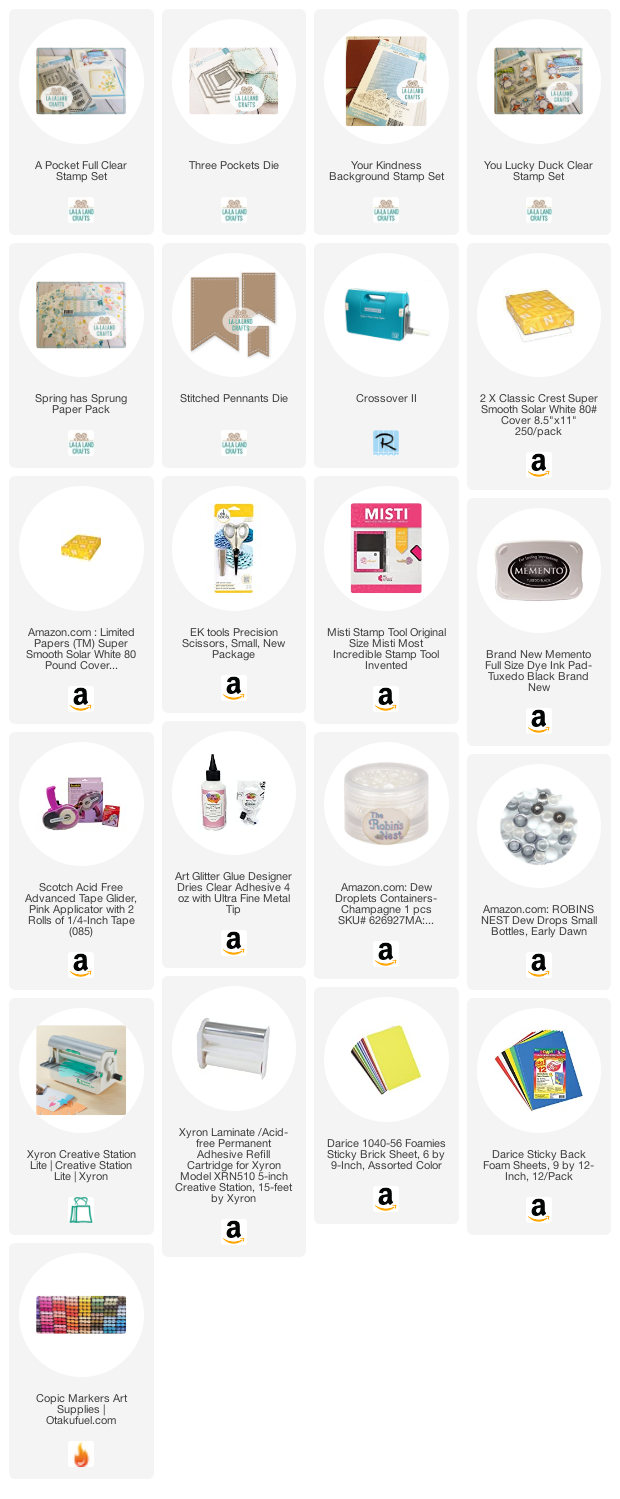 Here is the coloring video I promised. I hope you enjoy!
I hope you enjoyed my post today. Don't forget to go and see the rest of the team's creations over at the 
LaLa Land Crafts Blog
. Don't forget you can also find great inspiration over at the 
LaLa Land Crafts Facebook Group
 and on 
Instagram
as well.
Until next time friends!!!
Don't forget to follow me on 
Instagram
,
YouTube
,
Pinterest
, and if you want to connect with me, even more, come see 
my facebook page
!
[/vc_column_text][/vc_column][/vc_row]