Super Hero Luka ~ La-La Land Crafts
[vc_row][vc_column][vc_column_text]
Hey all! Happy Monday everyone! This week I have made the cute Super Hero Luka into Super Hero Batman Luka. The challenge this week for the team is "Anything goes". This week also happens to be
my husband's birthday. Yes, you guessed it this is his birthday card.
I decided to use Super Hero Luka because I told him just the other day that he was my hero. He puts up with all my medical conditions that make life unbearable at times, and still thinks nothing of himself, just if or how he can help me.
His super hero, however, is Batman HAHA! So Super Hero Luka got a Batman super suit. I have been waiting sooooo long to use this awesome Skyline Border Die! Ugh, you just don't even know! I absolutely love this die-cut, it is just so fun.
I used two black cardstock Skyline Border dies, then cut one from gold glitter cardstock.  I popped out all the windows. I wanted it to look like lights were on inside the buildings up against the gold glitter cardstock.
The one in the very back is cut in half since it is behind the layered cardstock Super Hero Luka is attached to. I made a whole video for you but I lost the video because my tablet ran out of space :(  Anywho! I lined up the one I cut in half at each edge of the 5 1/4 x 4 gold glitter cardstock. The one in the front is glued to the gold Skyline Border I cut out.
If you look closely at the edges of the layers Super Hero Luka is on top of, they have stitches. I did that with the longest of the Long Flags die. I put the layers under the die but only ran it through my Crossover II enough to hit just that one edge. I did it on both sides of the paper. If you cut the layers at 4 1/4 you will be able to do the same.
I also cut out two long flags. I cut one out of gold glitter paper and one out of black cardstock. I just layered them and then cut the end that was too long off the gold one.  You can also see that I had to use the Eerie Bats die along with the Batman theme for the card.
We have Super Hero Batman Luka, his bats, and Gotham down below. This card truly was so much fun to make! I hope that he likes it!
I have a video down below the supplies of how I colored Super Hero Luka as well.
Copic markers I used are:
Skin: E000, 00, 04, 11, 21
Hair: E41, 42, 43, 44, 47
Super suit: C7, 8, 9, 10, 100, YR21, 23, 24, Y28
Super goggles: C7, 8, 9, 10, 100, BG000, 0000
Here are my supplies: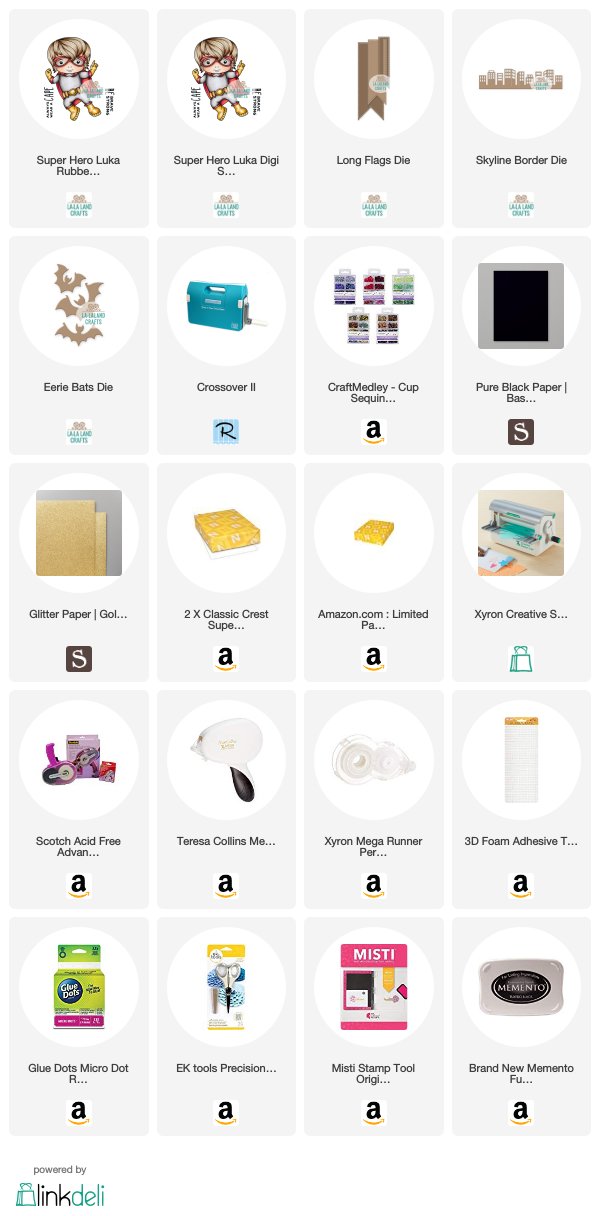 Here is a video of how I colored Super Hero Luka:
I hope you enjoyed my post today. Don't forget to go and see the rest of the team's creations over at the 
LaLa Land Crafts Blog
. Don't forget you can also find great inspiration over at the 
LaLa Land Crafts Facebook Group
 and on 
Instagram
as well.
Until next time friends!!!
Don't forget to follow me on 
Instagram
,
YouTube
,
Pinterest
, and if you want to connect with me, even more, come see 
my facebook page
!
[/vc_column_text][/vc_column][/vc_row]