Mouse, Koala and Phlox Sprites Oh My! ~ Aurora Wings Showcase
[vc_row][vc_column][vc_column_text]
Hey all! Today is a wonderful day for an Aurora Wings new release over at the
Showcase Blog
! I had such a great time with this little Mouse, Koala, and Phlox Sprites. They are so darn cute! I love them all. There are actually 2 more new images in the release called Tulip Sprite and the new
Aires (which is completely gorgeous!). I, however, did not get a chance to color those two. I do have videos for you though on how I not only colored the Mouse, Koala, and Phlox Sprites but also how I made the cards.
The first card I have for you I LOVE I had so much fun with this little guy and had so many ideas. But when it came down to looking in my book of sketches (yes I use it still as well), I came across a sketch that made me think of cheese. I had to go with that one!
I used 2 different sized circle die cuts to make the cheese. I made sure to put a couple off the paper so it really did look like his little bit of cheese.
I also used a polka dot embossing folder to give the white a little texture. You know how I am, I cannot handle just a plain bit of cardstock, it looks so blah. There is just something about a bit of texture that just takes cards or just a bit of paper to that next level.
The Copic markers I used are:
Skin: E000, 00, 04, 11, 21, R20, 30
Mouse fur: W1, 3, 5, 7, 10, E93, 95
Mouse eyes: E44, 47, 49
Mouse nose: E93, 95
Cheese: YR12, 21, 23, 24
Cardstock sizes:
Whisper White: 4 1/4 x 11 (folded in half for card base), 5 x 3 3/4
Sunburst Yellow: 5 1/4 x 4 (2) cut one side down for the angle
Galaxy Gold: 5 1/4 x 4 cut one side down at an angle for the top piece of the cheese
Here is the video for sweet little Mouse Sprite I promised:
The second card I made for you is from a very special sprite, at least in this house. With the recent fires in Australia and Meadow having a report to do about "Man's Influence"  for her school work. Meadow was looking on the endangered species list for Koalas to make sure they were going to be okay on the
WWF website
. She searched everywhere and found they have dogs helping to find any that need saving and more.
Meadow decided she wanted to donate her allowance to WWF to help out. She also decided for her birthday gift this year she wanted a donation for WWF as well. This little girl touches my heart every day with her love and caring. Just as this cute Koala Sprite does as well.
You can actually receive this cute Koala Sprite for free when you use any of the shopping codes (found at the bottom of my post).
The Copic Markers I used on this sweetie are:
Koala Fur: C0, 1, 3, 4, 5, 6, 7, 8, R30, Blending Solution
Koala Eyes: E44, 47, 49, White Gel Pen
Skin: E000, 00, 04, 11, 21, R20, 30
Cardstock sizes:
Brown: 4 1/4 x 11 (folded in half for card base), 4 x 5 1/4, (4) 1 7/8 x 1 7/8, 2 7/8 x 2 7/8
Yellow patterned paper: 4 1/8 x 5 3/8, (4) 1 3/4 x 1 3/4
Green patterned paper: 3 7/8 x 5 1/8, 2 3/4 x 2 3/4
Vellum: scrap
Here is the video of how I colored and made the card for the Koala Sprite:
The last card I have to show to you today is with the very adorable Phlox Sprite. She is so very sweet all the way down to her pose.
I when coloring her I wanted to go with something a little different. I looked at photos online when I came across this beauty - the Blue Diamond Phlox.
The colors are so beautiful and eye-catching, it just made me say "ooohhhhh". I had to do these colors the best that I could.
I believe I got pretty close. You can't see it in the photo but I also put some clear Wink Of Stella on the flowers as well to get that shimmer from the photo of the real flowers.
This card has a lot of texture as well from the embossing folders. I actually did the green circle the wrong way on accident but thought it looked pretty neat and left it.
The Copic markers I used are:
Flowers: B00, 01, 02, BV01, 02, W2, 5
Leaves: YG21, 23, 25, G28
Skin: E000, 00, 04, 11, 21, R20, 30
White Gel Pen
Cardstock sizes:
Whisper White: 4 1/4 x 11 (folded in half for card base), 3 3/4 x 5, scrap for circle
Blue: 4 x 5 1/4, scrap for circle
Green: 4 1/8 x 5 3/8, scrap for circle
Patterned paper: scrap for circle
Here is the video I promised with how I colored and made the card with the sweet little Phlox Sprite:
I have one last fun and amazing thing from Mitzi she is so generous! It is coupon codes for you to save money on these beautiful gorgeous images!
Here are the supplies I used for these cards: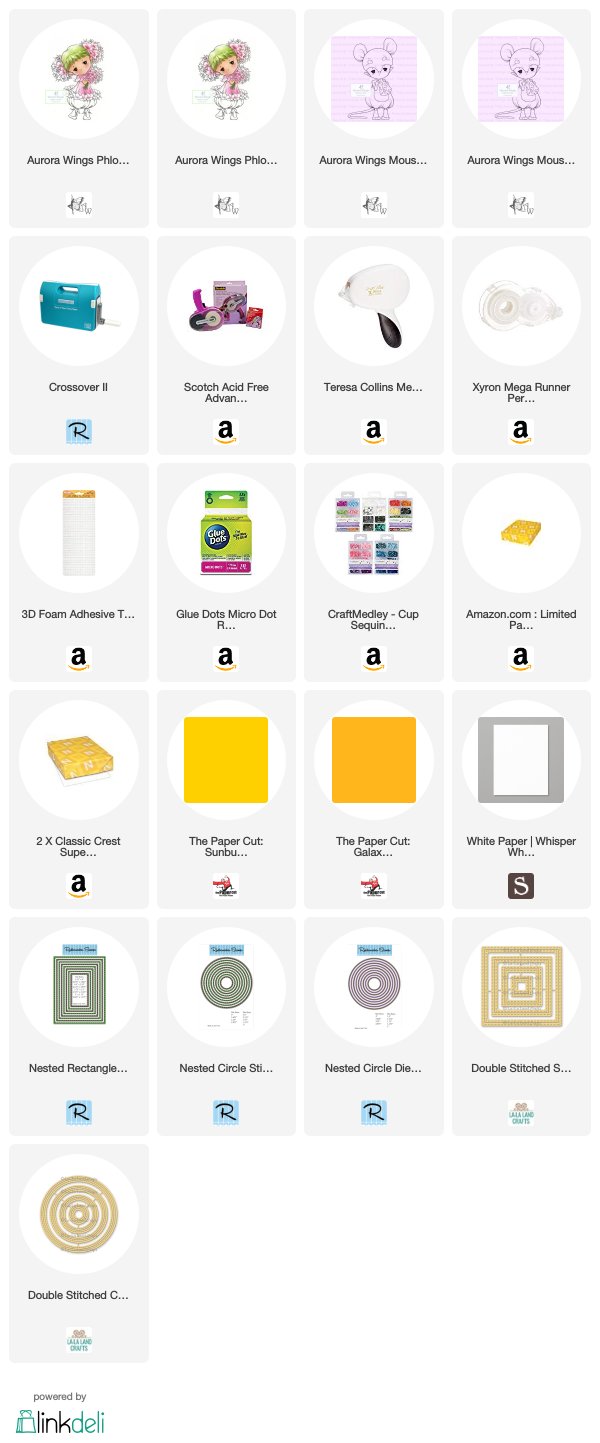 Be sure to go over to the
Aurora Wings Showcase blog
for more inspiration from the team for this image and the others released today. If you do make anything with this stamp or anything from Aurora Wings please feel free to share them with the
Aurora Wings Facebook Group
! You would not believe the inspiration in the group! Please if you are not already in the Aurora Wings group go and join, you won't be sorry. You are missing out for sure by not being in it!
Until next time friends!!!
Remember to sign up to get my blog so you don't miss any of my posts.
You can also follow me on
Instagram
,
Pinterest
,
YouTube
, and if you want to connect with me, even more, come see
my facebook page
[/vc_column_text][/vc_column][/vc_row]