Great News ~ La-La Land Crafts New Release
[vc_row][vc_column][vc_column_text]
Hey all! Happy Sunday! It is the Great News Stamp Set that is as adorable as ever in this post. It is a new release starting today from La-La Land Crafts. Have I ever told you how much I love these little panda bears from La-La Land Crafts? The
Great News stamp set has some of the bears from a Club La-La Land Crafts stamp set along with a couple of new ones.
The looks on these little panda's faces just make me smile and giggle every time I see them.
I mean look at his little face! It is perfect for almost anything. I made this into a birthday card for my mother in law... she will be 71 years old this year so I always give her funny little cards. That is why I put the little panda with the balloon on the card.
I put the phone, with the little pandas holding their little cup phones on the card with the little telephone coil going between them because my mother in law lives in Washington state so most of the time wishing her a happy birthday is always over the phone.
Copic markers I used are:
Pandas: C0, 1, 5, 7, 9, R30, 20, E93, 95
Balloon: YR12, 15, 18
Cups: YG00, 01, 03, BG01, 05, 07, 09
White Gel Pen
Here is a video of how I colored the little pandas in the stamp set:
Here are the supplies I used for the card: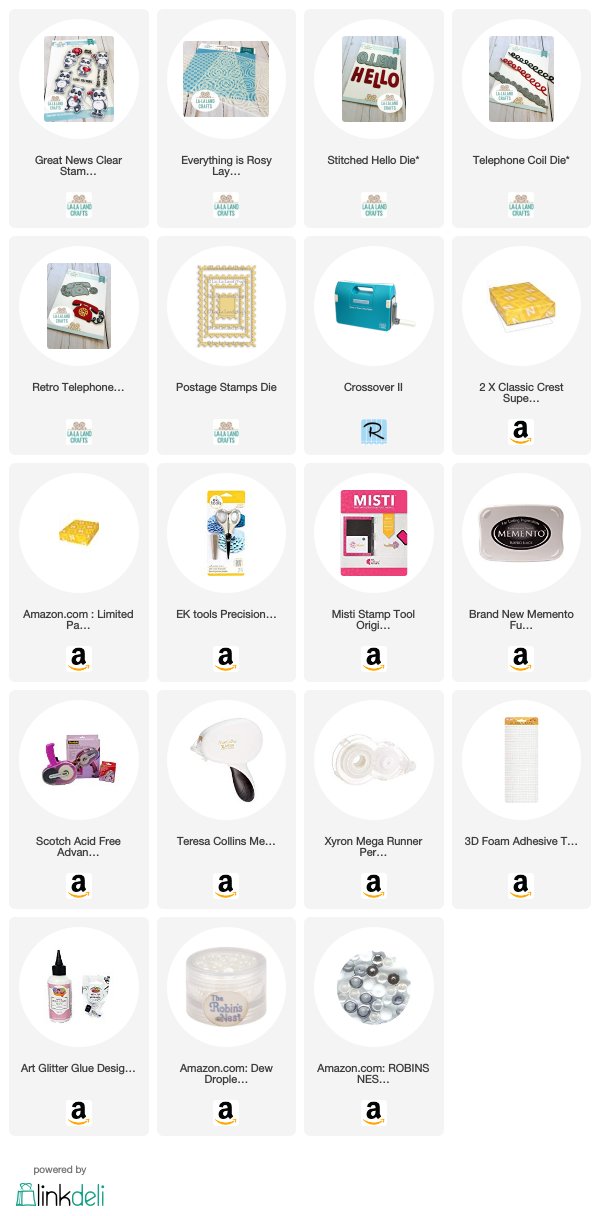 I hope you enjoyed my post today. Don't forget to go and see the rest of the team's creations over at the 
LaLa Land Crafts Blog
. Don't forget you can also find great inspiration over at the 
LaLa Land Crafts Facebook Group
 and on 
Instagram
as well.
Until next time friends!!!
Don't forget to follow me on 
Instagram
,
YouTube
,
Pinterest
, and if you want to connect with me, even more, come see 
my facebook page
!
[/vc_column_text][/vc_column][/vc_row]