Brush Your Teeth Challenge #415 ~ The Paper Shelter
Hey All! Today I am playing with Brush Your Teeth from The Paper Shelter. The Paper Shelter challenge for this week is For The Boys. While this isn't exactly a birthday card or something like that for a boy... It is a little
boy brushing his teeth and I made a Thank You card for my dentist.
It is very rare and very hard to find a good doctor of any kind these days. To me, the meaning of a good doctor is one that actually CARES about the people he sees and are under his care. A good doctor isn't someone who is trying to push pills get you out of the office then charge you and your insurance company a ton of money so he/she can buy a new boat. My dentist Dr. Mango in Greensboro, NC is just one of those amazing people that CARES about his people!! I would trust Dr. Mango with my life. In all my life he is the ONLY dentist that I TRUST to work on my teeth and mouth. Going to the dentist can be a very nerve-wracking scary thing. Dr. Mango makes you feel comfortable. This is saying a LOT since I just had a back tooth extracted because of problems with my clinching at night and during stress.
So to answer your next question, Yes it feels very odd that I am sending a thank you card to someone who just ripped a tooth out of my face. The amazing part I didn't feel ANYTHING! Although, my husband crunching up tortilla chips on his taco the noise made me pause for sure HAHAHA!! My eyes probably looked just like this little guy brushing his teeth.
The thanks stamp that I used is actually from Rubbernecker Stamps. I am sure that I have a thank you someplace in my stash but I couldn't find it. Although I am glad that I pulled that stamp set out, it is beautiful. Now I want to make something with the stamp set for sure.
I have to tell you I had a hard time finding the colors I wanted for this sink. I am really happy that it came out so close to what I had wanted. It took about 3 tries but I got it.
I also used a foam sheet to make foam pieces that were the same shape or long enough for the whole thing to pop them up for some depth.
The Copic markers I used are:
Skin: E000, 00, 04, 11, 21, R30
Hair: E41, 42, 43, 44, 47
Pajamas: BG93, 96, 99, W5, YR30, Y21, 26
Tooth Brush: B32, 34, 37
Tooth Paste (on face): BG000, 01
Tooth Paste Tube: G000, 00, 02, E41
Stool: E31, 33, 35
Sink: E81, 41, BG90, T2, 3
Here are the supplies that I used so you can have easy access to them: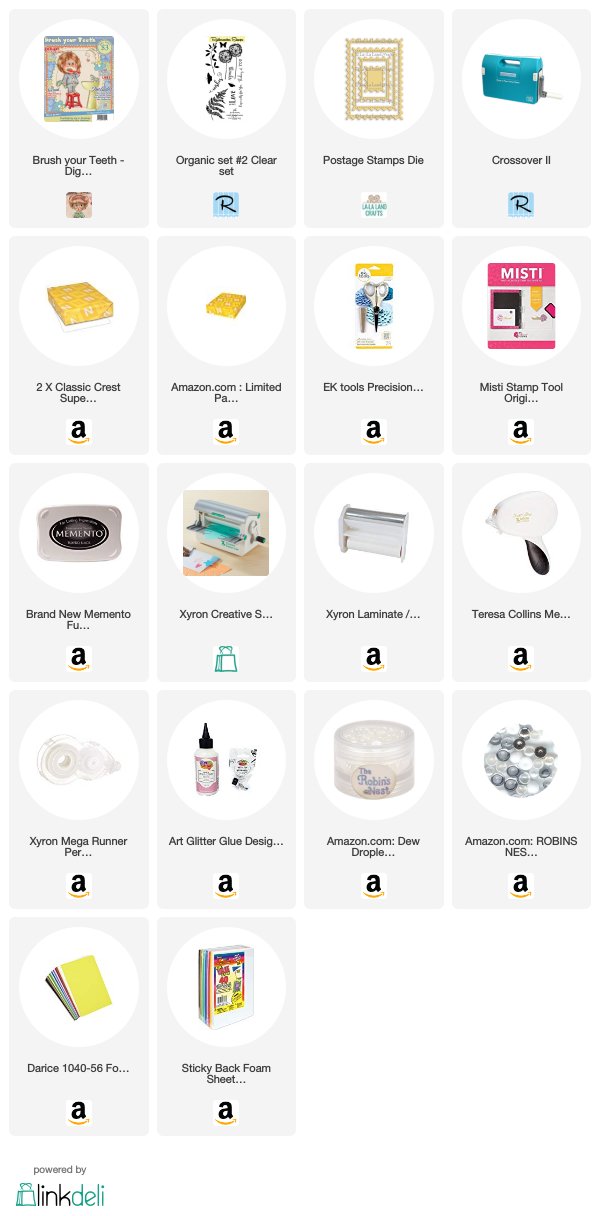 I hope you enjoyed my post today. There are a lot of lovely cards over on the
challenge blog
you really should go and look. Find The Paper Shelter on Instagram here: @thepapershelter. There is also a group on Facebook called
Friends Who Like The Paper Shelter
that you can share them with as well.
Until next time friends!!!
Don't forget to sign up to follow my blog so you don't miss a post. You might also want to follow me on
Instagram
,
YouTube
,
Pinterest
, and if you want to connect with me, even more, come see
my facebook page
!