Cozy Mona New Release ~ La-La Land Crafts
[vc_row][vc_column][vc_column_text]
Hey all! Today is day 3 of the November 2019 La-La Land Crafts New Release! I don't know about you but I am loving everything about this release!
Today I am using the super beautiful new addition Cozy Mona. I love everything
about the Mona stamps. This one with her fuzzy socks (well I love fuzzy socks so hers are fuzzy too haha!) I love!
I was actually thinking of paper piecing Cozy Mona's clothes... but I thought I would practice my patterns instead. There is always time to practice! Needless to say I had a very good time with this!
You can see all the different patterns and textures I used on her clothing in this photo.
You can also partially see that I used the Fireplace Die mantel to make Waynes coating and a wood floor.
For the wallpaper this time I used the new Snowy Hills Layering Stencils. I used Ranger Distressed Oxide Ink Tumbled Glass to put it on the paper then layed everything else down.
I love the Three Presents Die as well. I have a good time cutting them apart to mix and match the bows with paper.
I had an amazing time making this card.
Copic markers I used are:
Mona:
Skin: E000, 00, 04, 11, 21, R20, 30
Hair: E50, 51, 53, 55
Pants: B91, 93, 95, 97, White Gel Pen
Shirt: B34, C1, 00
Socks and Robe: R81, 83, 85
Floor: E31, 33, 35
Wallpaper: Distress Oxide Ink Tumbled Glass
I hope you enjoyed my post today. Don't forget to go and see the rest of the team's creations over at the 
LaLa Land Crafts Blog
. Don't forget you can also find great inspiration over at the 
LaLa Land Crafts Facebook Group
 and on 
Instagram
as well.
Until next time friends!!!
Don't forget to follow me on 
Instagram
,
YouTube
,
Pinterest
, and if you want to connect with me, even more, come see 
my facebook page
!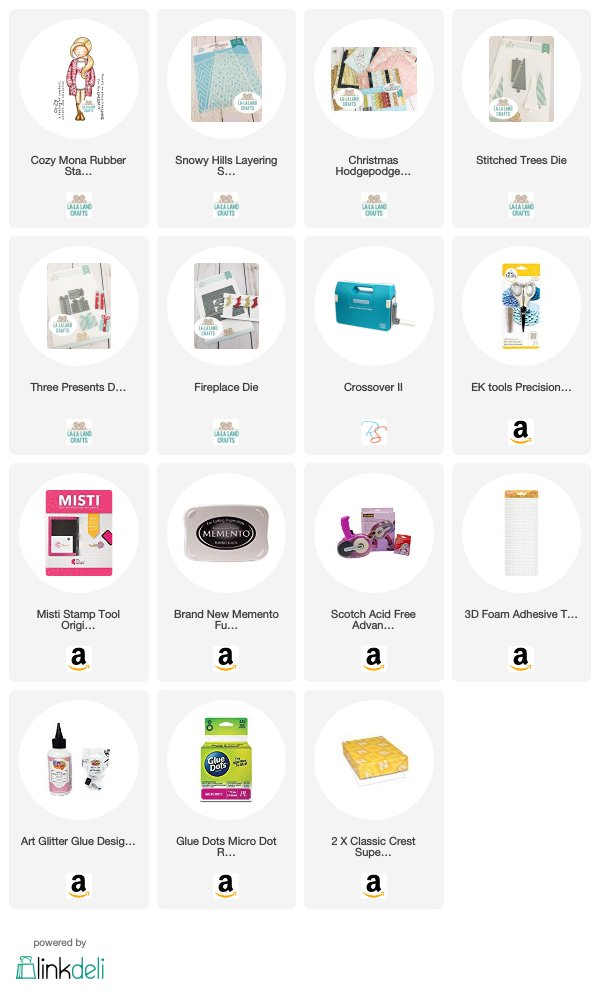 [/vc_column_text][/vc_column][/vc_row]