Mysterious Roses & Skulls ~ The Paper Shelter
Hey All! I had to use Mysterious Roses & Skulls for this week's The Paper Shelter challenge over on their blog. This is their 400th challenge so I had to make sure that I joined in the celebration. Only I was a day late I think :( I thought I had until Tuesday (today) to play but I was wrong. But I am going to show you what I made anyway.
The theme of the challenge is celebration cards. I am making mine in the celebration of Halloween. When I saw the beautiful Mysterious Roses & Skulls I knew exactly what I was going to do!
Then after coloring her eyes green it made me think of one of those beautifully spooky photos on the mansion walls in a scooby doo cartoon. Yes, I do love scooby-doo! That is when I decided to use the "I'm Under Your Spell" sentiment to finish off the card.
I cut a bit of the U off under but that is okay I am not giving this baby away! I will be keeping her for sure! Here is a better look at the colors I used for her eyes.
I went completely vintage with this card with pinks and vanilla colors in my paper and my cardstock. I used my scissors to rough up the edges. I also used a bit of Walnut Stained Distress Oxide Ink to give the paper that vintage look. I also did the same thing on the lace that I put on the card. Although with this photo you can't see a lot of the walnut stain.
I also used some of the Walnut Stain Distress Oxide Ink on the roses that I added as well.
The Copic markers I used are:
E40, 41, 43, 44, 47
Y11, YG01, 05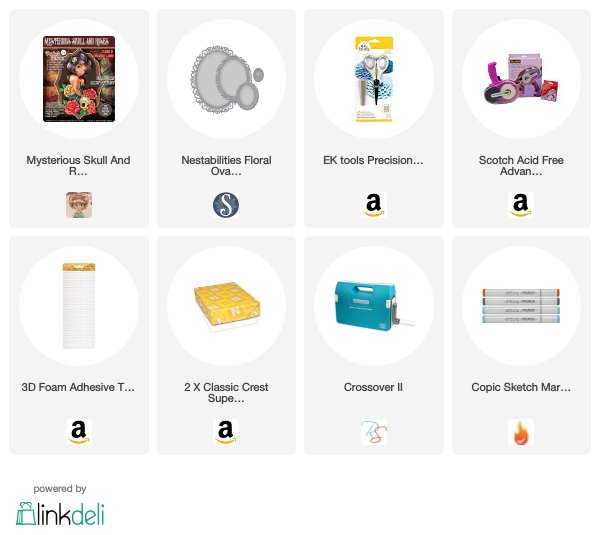 I hope you enjoyed my post today. There are a lot of lovely cards over on the
challenge blog
you really should go and look. Find The Paper Shelter on Instagram here: @thepapershelter. There is also a group on Facebook called
Friends Who Like The Paper Shelter
that you can share them with as well.
Until next time friends!!!
Don't forget to sign up to follow my blog so you don't miss a post. You might also want to follow me on
Instagram
,
YouTube
,
Pinterest
, and if you want to connect with me, even more, come see
my facebook page
!