Halloween Critters ~ La-La Land Crafts
[vc_row][vc_column][vc_column_text]
Hey all! Who doesn't love some cute Halloween Critters? I can't think of anyone that doesn't, especially when they are as cute as these ones! This stamp set is actually called Halloween Critters from La-La Land Crafts. The La-La Land Crafts design team has the challenge of Halloween this week, and here is my card for you.
I had to make something as cute as possible because I like cute Halloween not scary Halloween. Plus I just got the
Build A House die cut that I have been dying to use! I think it is so cute when I see it on other team member's cards.. so it was a must-have.
I had a really good time making this card with all the different elements and all the different things that you can do with it. I also just got the Halloween House Add On die-cut as well. At first, I couldn't think of what the door was but then it hit me... it is a mouth haha!
I cut out a piece of white cardstock for behind the two windows so that I could use Y11 to make them look like there were lights on. I did make things a little off-center when gluing them together because everything was so black I didn't want things blending in.
I also got the Ghosts die-cut because who doesn't have fun with some cute little ghosts on their Halloween cards? I did color their faces with C1 but it isn't really noticeable after I took the photo.
I love the pumpkins and the cauldron that come with the Halloween House Add On die-cut. I cut out a couple of extra pumpkins so it would look like the cauldron was filled with them. I wanted to add the Grass Patches so the house and the Halloween Critters would not look like they were just floating in the air. Although, I may have gone a little crazy with the grass patches haha!
I had so much fun with the Halloween Critter of the Kitty Witch. I was actually video chatting with one of my best friends Lois while I was coloring her so she helped me make color decisions it was so much fun crafting with her!! She lives in New Jersey so we don't get to actually craft in the same room.. so crafting over video chat is the next best thing.
Meadow was also sitting at my desk coloring and craft video chatting with Lois. So she was helping me with color decisions with the Halloween Critter Panda Vampire and with Halloween Critter Frankie Bear. They were just so fun! I used a fine tip sharpie to do the stripes on the Panda's vest. I am thinking now I probably should have given him different colored pants because it is all blending together but I still love how he turned out.
The Copic colors I used for this are:
Green skin: Y11, YG05, 03, 01
Black clothes: C3, 5, 8
Red clothes: R05, 27, 29, 59
Purple clothes: V22, 25, 28, BV25, V04
Windows: Y11
Pumpkin bucket: YR12, 14, 18, 07
Gold Buckle: YR21, Y26
I hope you enjoyed my post today. Don't forget to go and see the rest of the team's creations over at the 
LaLa Land Crafts Blog
. Don't forget you can also find great inspiration over at the 
LaLa Land Crafts Facebook Group
 and on 
Instagram
as well.
Until next time friends!!!
Don't forget to follow me on 
Instagram
, 
Twitter
, 
Pinterest
, and if you want to connect with me, even more, come see 
my facebook page
!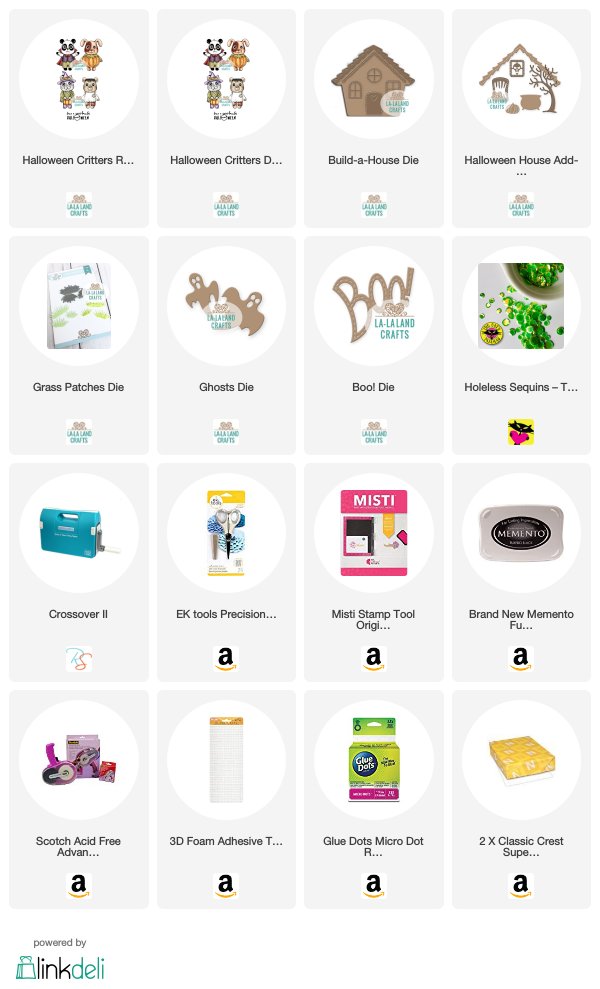 [/vc_column_text][/vc_column][/vc_row]