Clean & Simple Challenge Reminder - The Cat's Pajamas
[vc_row][vc_column][vc_column_text]
Hey all! Yup! It is time for the mid month reminder to get your challenge on!! A challenge from The Cat's Pajamas team is always fun!
If you forgot this month's challenge is clean & simple. It always
throws me off, but with these cutie bunny stamps it is easy and I am getting the hang of it I think!
I really love this adorable bunbun just "Kickin' it!" in the flowers! But hey we all know how much I love these bunnies! There isn't one TCP bunny stamp that hasn't just completely melted my heart and made me fall in love.
I mean seriously how can you resist this bunny??
The first time I colored this cutie I colored the flowers pink. This time when coloring her I decided to go for the traditional daisy look and go for a yellow and white.
I did use the "Kickin' it" sentiment from the same stamp set as the bunny. Its just perfect!
I finished off the card with some of the  holographic clear holeless sequins... I just had to have something... you know me! Gotta have some pretty bling. I really had a wonderful time coloring and creating this card!!
The Copic Markers I used are:


Hair: E50, 51, 53, 55


Nose: R00, 01, 02


Daisies: C1, Y08


Grass: G24, 28


other: White Gel Pen


Be sure to check out
The Cat's Pajamas Blog
 and 
Facebook page
to see what the other designers on the team have made to inspire you for the challenge. I really hope that you will go over join in all the fun
I really hope you enjoyed my post today because I really enjoyed this card and making this post :)
Until next time friends!!!
Don't forget to sign up to follow my blog so you don't miss a post. You might also want to follow me on
Instagram
, 
Twitter
, 
Pinterest
, and if you want to connect with me, even more, come see 
my facebook page
!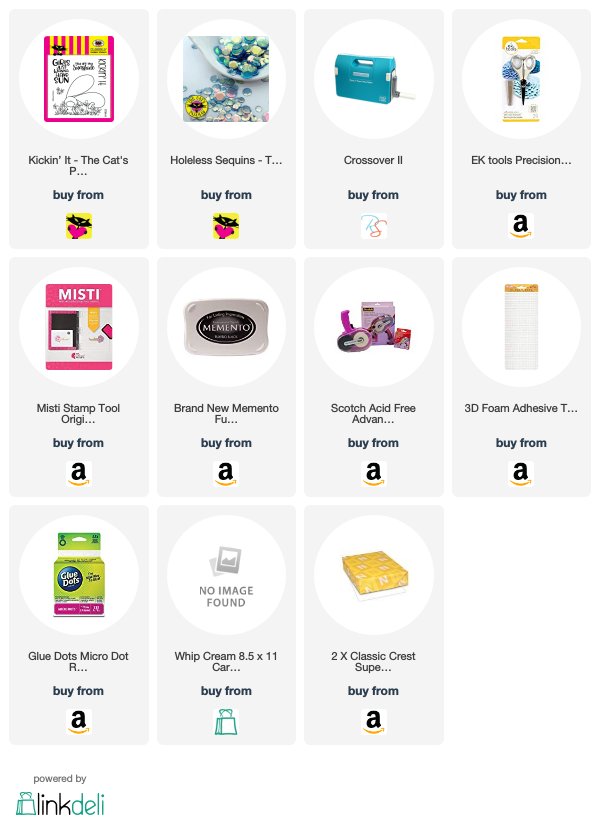 [/vc_column_text][/vc_column][/vc_row]