Coffee & Doughnuts La-La Land Crafts
[vc_row][vc_column][vc_column_text]Hey all! It is 3D project week for La-La Land Crafts. I wanted to use something coffee related so that I could make this really cute coffee holder that I learned to make years ago from a
very
VERY sweet lady
Becky Roberts
back when I
was with Stampin' Up! I knew that the cup holder I learned to make from her would be perfect with the Coffee & Doughnut Buddies from La-La Land Crafts.
Of course, I had to go a little overboard and also make a card to go with it. I had actually planned on using Coffee Break Marci on the card since I used one of her sentiments with the Nested Frames Large on the coffee holder. However, I was just running out of time and I still wanted everything to tie together. I still had to make handmade doughnuts for the photos as well.
Let's start with the coffee tote for two. I learned this from Becky (thank you so much Becky for sharing this). You can find the directions on her blog and a link to some very cute little cups. However, this idea came to me last minute so I wouldn't have the time to order the same size cups that Becky has. So, I had to improvise a little bit and make mine a bit bigger.
I had to go to Starbucks and put on my sweetest smile and ask the nice kid behind the counter if I could please have just 2 of his smallest cups with lids... because I am that crazy crafting lady that has to make things out of their cups haha!!! Is it bad that at my old Starbucks in California my two favorite baristas would ask "hey do you need cups for anything?" ?? HAHA!!


The base of the box I cut at 6 x 8 3/4"


I scored the base at 1 1/2" on all sides





After I scored the sides, I cut on two opposite sides of the score lines up to the intersecting score line.






Cut the corners off on the diagonal to help everything fit better (I think Becky calls them Hangovers)



Using a strong double-sided tape assemble into a box.





Handle I had to make a bit bigger as well is 2 1/3" x 12".  Score at 1" from each end and 6" in the center. Fold in half and secure with adhesive.






Use the La-La Land Crafts Double Stitched Ovals (the smallest one) to make a hole for carrying.






Fold the flaps out and secure to the inside of the box with strong double-sided tape.



You can see photos on Becky's Post. To decorate the outside I cut the patterned paper and the cardstock just 1/8" smaller than the sides of the box.
I also used the label from the Curved Pocket die cut. It is held on with some old Stampin up and I mean OLD rhinestone brads to hold the label on. I then used the smallest of the Nested Frames Large die cuts to cut out the sentiment and put it on top. It probably looks a little funny but I just had to put the little doughnut buddy. She is just so cute.
The sleeves I just cut down a Starbucks sleeve to make a pattern that would fit. I then out the parts that cut out from the handle on the sleeves, along with the coffee buddy.
The card was a lot of fun as well. I stacked up some die cuts to make it fun, funky and textured and added some fun little buddies. The sentiment I used the Long Flags die cuts. The sentiment is from the Coffee Buddies stamp set.
The Copic markers I used are:
Coffee Cup Buddy:
Cup (skin?): C0, 1, 3, R20
Shirt & Shorts: G21, 24 ,28
Shoes: E53, 55
Doughnut Buddy:
Skin: E000, 00, 04, 11, 21, R20
Hair: E57, 55, 53
Shoes: E53, 55
Dress & Stockings: G21, 24, 28
Frosting: RV000, 00, 02
Sprinkles: Y13, YR63, BG05, G16, R17
Doughnut on card: E30, 31 34
Doughnut on Coffee Tote: E40, 41, 43, 44
Other: White Gel Pen
I hope you enjoyed my post today. Don't forget to go and see the rest of the team's creations over at the
LaLa Land Crafts Blog
. Don't forget you can also find great inspiration over at the
LaLa Land Crafts Facebook Group
and on
Instagram
as well. Until next time friends!!!
Don't forget to follow me on 
Instagram
, 
Twitter
, 
Pinterest
, and if you want to connect with me, even more, come see 
my facebook page
!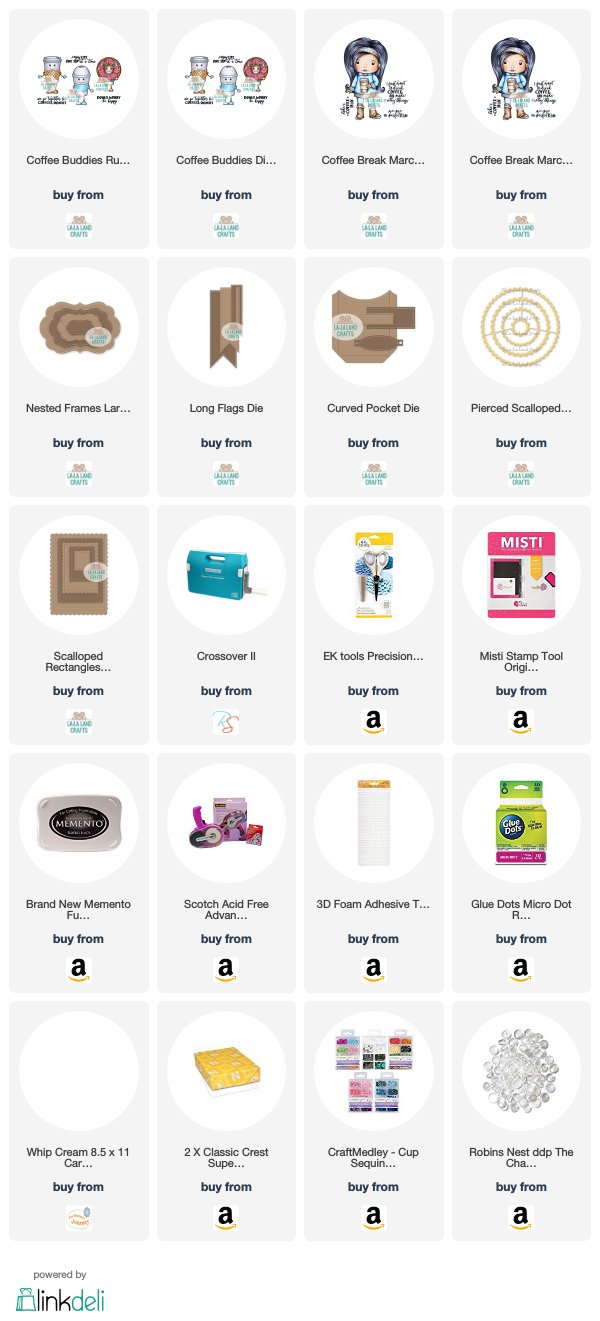 [/vc_column_text][/vc_column][/vc_row]