Tempest Of Ice - Aurora Wings Music Inspired Challenge
[vc_row][vc_column][vc_column_text]Hey all! It took me a while to decide what I was going to do for this challenge. The challenge is inspired by music. First I thought of a David Bowie song because I really have always loved his music... well most of it some of it from the 70s was a bit.... well far out man haha! But my favorite all time movies is Labyrinth. That got me thinking and looking through the images on aurora wings... What would go with that movie or songs from that movie.
Then it hit me! I also love Queen "Princes Of The Universe" and love the movie highlander.... although I do like Duncan MacLeod more than Connor just because I can't understand practically a word of what Connor said because he mumbles to me... anyway you are not here to talk about mumbling
movie characters haha! Aurora Wings does have a highlander type of digital stamp that is perfect!
I used this image as inspiration in order to color Tempest of Ice, Connor MacLeod.
Granted he has a lot of plaid for his clothes, however the coloring was going so well I was NOT going to mess up a good thing while it was going... no way! This highlander was going to have to deal with solid colors instead of prints sorry!
This is going to sound really silly but the hardest part for me was the ice in the background. I say it was the hardest only because I have never done anything like that before. I was not about to cut him out from it either because I like having the background. I had a good time coloring him though. I took a few days and worked on him little by little. I find that if I step away from a project and just do little bits at a time that I do a better job and like it better.
The background was nice though because Mitzi put a lot of lines to guide you. So that was really helpful! I did put Wink Of Stella Clear on the ice but the camera didn't really pick it up that well. It is there though, on the ice and on the snow. I think my favorite part about coloring this was the clothes. Which was probably the easiest part too haha!
I especially had fun trying to make the fur on his cape and boots look like bear fur. I even looked at different bears to try and get the colors correct. I decided to go with this sweet photo. mine is a little more orange in color but I think I got close.
Doing the bear fur first I think got me prepared to do the wolves. They were fun to do and a lot easier than I thought they were going to be, again thanks to Mitzi's lines. I thought I would make them look really majestic by giving them ice blue eyes.
Here are the Copic markers we used:


Skin: E000, 00, 11,21, 04, BV20,


Hair: E41, 43, 44, 47, 49


Clothes: E95, 97, 99, YG93, 95, 97, B32, 34, 37, 39


Bear Fur: E33, 35, 37, 39


Wolves Fur and eyes: W0, 1, 3, 5, 7, B000, 01


Ice and snow: BG0000, 000, 02, 05, 09


Please be sure to 
check out the challenge
and the current happenings over at
Aurora Wings Challenge Blog
! You can also see what the other team members made over there too!  You don't want to miss out on anything! Their projects are so beautiful!
If you do make anything with this stamp or anything from Aurora Wings please feel free to share them with me on 
my facebook page
 or
Aurora Wings Facebook Group
! You would not believe the inspiration in the group! Please if you are not already in that group go and join! you are missing out for sure by not being in it!
Until next time friends!!!
Don't forget to follow me on
Instagram
,
Twitter
, 
Pinterest
, and if you want to connect with me even more come see
my facebook page
!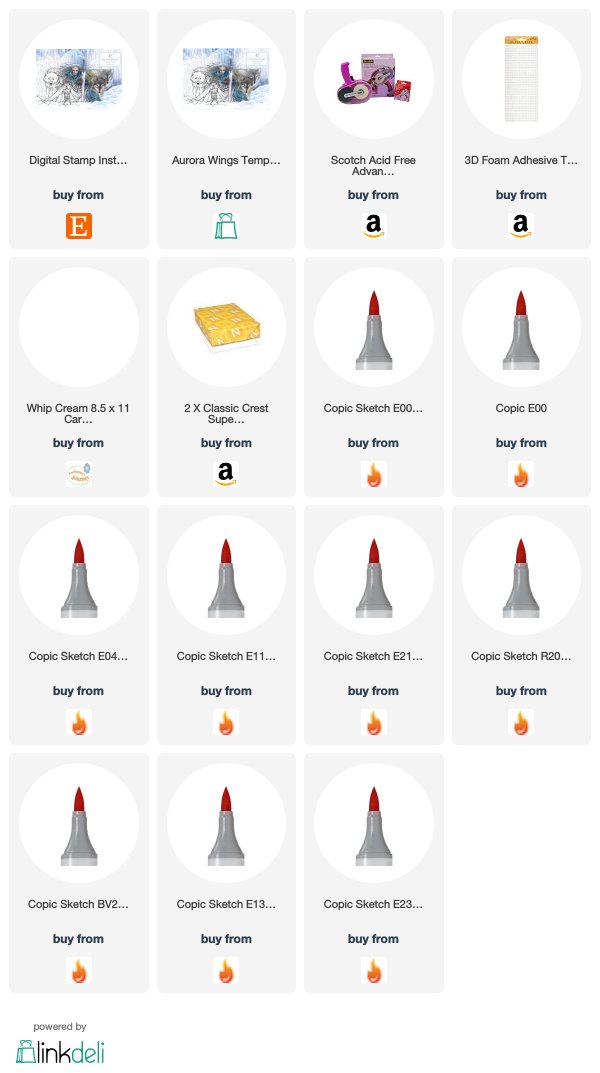 [/vc_column_text][/vc_column][/vc_row]